Daulton Roberts, DMD - Enid General Dentist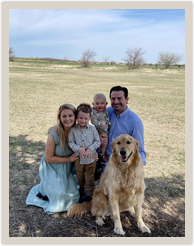 Daulton Roberts, DMD
Dr. Roberts was born and raised in Northwest Oklahoma, and was a 2004 graduate of Enid High School. He attended Northern Oklahoma College, where he was a member of the baseball team. He then attended University of Central Oklahoma receiving Bachelor's degrees in Biology, and Business Administration. Dr. Roberts then moved to Bradenton, Florida to attend LECOM School of Dental Medicine where he earned his Doctor of Dental Medicine (DMD) degree in 2016.`
Since he began practicing at TLC Dental in August of 2016 Dr. Roberts has attended hundreds of hours of continuing education in a wide variety of treatment options ranging from Invisalign, which he is a provider, to placing and restoring dental implants. He is committed to always staying involved and learning new techniques and advances in technology to provide our patients with the best care and treatment options available.
From 2017-2020 Dr. Roberts was the President of the Garfield County Dental Society. He also served as the President of the Northwest Oklahoma Dental Society from 2017-2021. He is a 2018 graduate of the Oklahoma Dental Association Leadership Academy, and continues to play an active role in organized dentistry in as a member of the American Dental Association, and the Oklahoma Dental Association.
"I'm very excited to be back home practicing in Enid, and for the chance to work with my good friend Dr. Jarrod Lack. I look forward to providing excellent and compassionate dental care to the people of Enid, and the surrounding communities. I greatly appreciate to opportunity to help you reach exceptional oral health, and the smile you deserve!"
In 2018 Daulton married his wife, Katherine. In 2019 they welcomed their son, Rhett and in 2022 they welcomed another son, Nash to their family. When not in the office, Dr. Roberts enjoy traveling and spending time outdoors with his family and their dog, Maggie Mae. Dr. Roberts also loves to golf, and is an avid fly fisherman.